What a great conference held April 19, 2017
Watch for details on next year's conference. Upcoming WEC Related Events (next Oct 6, 2017)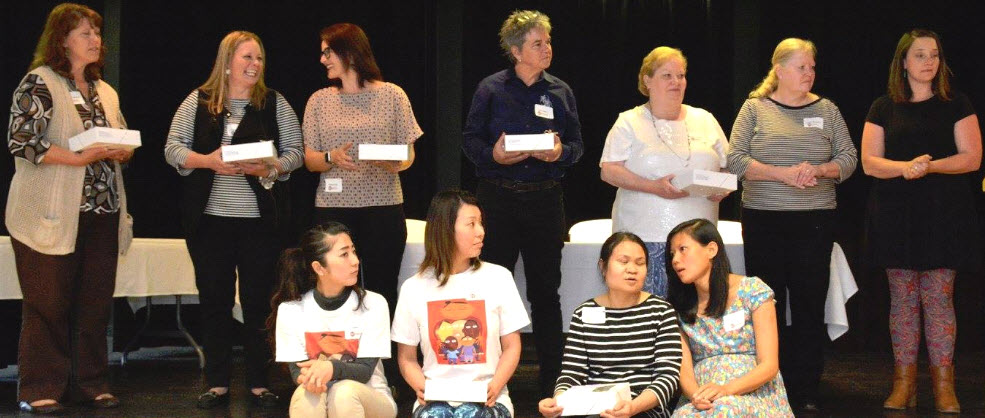 Conference Grants
---
AND THE 2017 WINNERS ARE:
Finalists – $ 500 Grants – Thank you Dominion Questar:
Emily Bradley Potts – Sugar House Coffee
Maryann Alston – Urban Farm & Feed
Yupin Charoen – Laan Na Thai Restaurant
Third Place – $ 1,000 Grant:
Ann Atkin – Meth Mob-Decontamination Specialists
Second Place – $ 2,000 Grant:
Rebecca Vallette – Essential Life Solutions LLC
Grand Prize – $ 5,000 Grant:
Makiko Hirota – Makiko's Daycare Center in Riverton
People's Choice Award – $ 1,000 – Thank you Zions Bank
Ann Atkin – Meth Mob-Decontamination Specialists
Congratulations to all our Finalists for amazing pitches! And on behalf of the planning committee, we are so proud of all of you and hope to continue to hear great things about your growth and success!
WOMEN'S ENTREPRENEURIAL CONFERENCE 2017 PRIZES
Each finalist is eligible to win one of the main prizes as well as the People's Choice Award. The winners shall be responsible for all taxes incurred and for any withholding requirements for state and federal income taxes.
Download PDF of 2017 Official Rules and Disclosure


To be as green as possible, we are once again using a mobile app. The event schedule is available via the FREE Eventbase app. You can download it onto your iPhone, Android, Blackberry or access it via the web. Download it and look for '2nd Annual Women's Entrepreneurial Conference' to get the schedule! http://free.eventbase.com/download
Thank you to the 2017 sponsors:
Mountain West Small Business Finance, KeyBank, Salt Lake Community College, Goldman Sachs 10,000 Small Businesses Program, American Express, Bank of American Fork, Carina Knecht – Ameriprise Financial Services, Amcheck Payroll, Hr & Benefit Administration Solutions (Katie Markey Grisley & Chad Dunbar), Queen of Wraps, Sugar House Coffee (Emily Bradley Potts), Annette Pieper, City of Holladay, Camilla Kragius, Holly Stokes, PCS Creative Services LLC (Paula Sageser), Elle Marketing & Events Consulting (Lydia Martinez), Heidi Westfall, Summer Kaye Milkovich, Leesa Myers, Next Level Images, Zions Bank, Questar Dominion!